The Planning Department provides land use planning services to the citizens of Coeur d'Alene. These services include assisting the community in the development of the Comprehensive Plan and the administration of the Zoning and Subdivision Ordinances.

The department also oversees the Community Development Block Grant (CDBG) funds to assist low-to-moderate income community members.
(Click on the Community Development tab to the left to learn more.)

For more information about the Planning Department, what we do and our current efforts, you can watch a presentation to the General Services/Public Works Subcommittee of the City Council from December 2020.

COVID-19 UPDATE
---

The Planning Department Team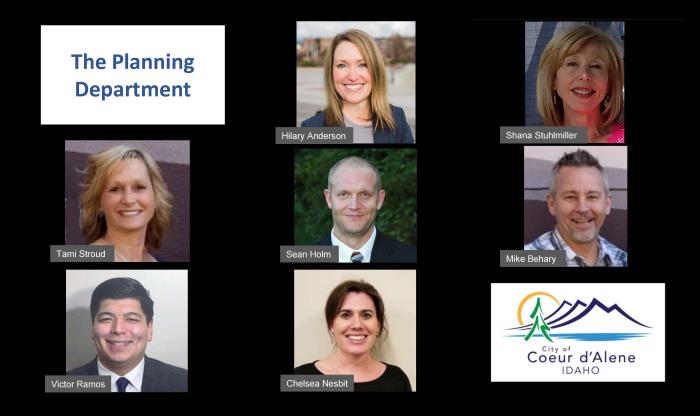 Please join us in welcoming our newest staff member, Victor Ramos, who joined the team on February 1st as the Planning Technician!

Department Staff
Hilary Anderson, MS




(Community Planning Director)

Office:
(208) 769-2270


Sean Holm, MBA


(Senior Planner)
Office:
(208) 676-7401


Tami Stroud


(Associate Planner)
Design Review Commission Liaison
Office:
(208) 666-5740

Mike Behary, AICP, MURP


(Associate Planner)



Office:
(208) 769-2271

Victor Ramos


Planning Technician

Office:
(208) 292-5773

Shana Stuhlmiller


(Administrative Secretary Public Hearing Assistant)
Planning Commission Liaison

Office:
(208) 769-2240

Chelsea Nesbit


(Community Development Specialist - CDBG Program)



Office:
(208) 769-2382

---

The Planning Team is proud to have received a plaque from the American Planning Association designating Sherman Avenue as a Great Street in America: