Please use the dedicated Building.CdaId.org website to apply for (and manage) permits that are issued by the Building Department.
NOTE:
Before using
the
Building.CdaId.org
website, you'll need a special account set up (accounts for other City websites won't work).
To get this account set up, please call us at (208) 769-2267
.
The online service (login on right sidebar) is intended to simplify the permit process for our customers. It is a customer-friendly tool in which architects and contractors can use to apply and pay online for:
Residential Building Permits (Plan Check Fee)
Plumbing Permits
Mechanical Permits
Re-Roof Permits
Through the login, customers can access permit information by clicking on "Manage Permits".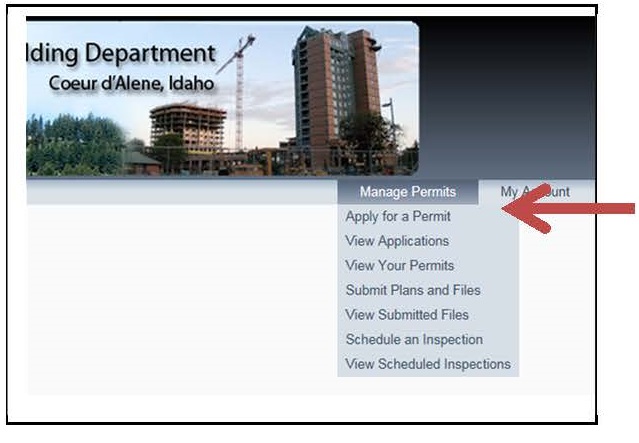 You are able to apply for a permit, view applications, view permits, submit plans and files, view submitted files, schedule an inspection and view scheduled inspections.
To apply for a permit, simply select the permit type. Enter the permit information. Click "Calculate Fees" and then add the permit to the shopping cart. Once added to the shopping cart, just follow the instructions to pay with a credit card. The paid permits leave the cart and are electronically submitted to the building services for processing.

Once the credit card payment is processed and approved, the submittal is forwarded to a queue and our permit technicians receive notification a submittal is waiting. We review, approve and issue Plumbing, Mechanical and Re-Roof permits as quickly as possible. Building permit submittals are routed for plan review. After all applicable City departments have approved the building permit; a "Permit Ready Notification" is emailed to the customer notifying them the building permit is approved. A link is included in the email to download and print the approved set of plans. The customer then prints the approved plan set (full size) and delivers this approved copy to Building Services with payment. We then issue the permit(s). The permit(s), a green inspection card and the printed approved plan set are the on-site permit package and shall be available to the inspector throughout the construction project.
Customer service is extremely important to us, and we are here to answer any questions our customers may have.
Please contact us at (208) 769-2267. We are here to serve you.