Please use the dedicated Building Department website to apply for, and manage, permits issued by the Building Department, at: https://building.cdaid.org

To use the Building Department's website, you'll need a special account set up (accounts for other City websites won't work). To get this account set up, please call us at (208) 769-2267.
---
COVID-19 Inspection Protocol
Effective Immediately

In an effort to protect the health of our community and our Inspection Team members, we are asking a few additional questions prior to scheduling your Inspection:
Have you or anyone on your jobsite tested positive for COVID-19?
Have you or anyone on your job site recently experienced any illness-related symptoms such as: fever, cough, or shortness of breath?
Have you or anyone on your job site recently interacted with anyone with symptoms such as: fever, cough, or shortness of breath?
If you answer "Yes" to any of these questions, please notify us, and we will inform you on how the inspection will proceed. Contact us at (208) 769-2267.
Our Inspectors reserve the right to reschedule an inspection to a different time if they encounter a concerning situation, become uncomfortable with a situation, or become aware of public health related concerns prior to or during an inspection.
We ask that you implement the following protocols to maintain a clean and safe job site:
Limit the number of workers on a job to reduce exposure.
Only one person at a time will be allowed to conduct business with the inspector, for example: sub-contractor or general contractor.
All workers should strive to maintain 6 feet of distance from other employees at all times.
Construction documents must be provided to the inspector by email, for example: truss and floor documents, balance reports, duct leakage, etc.
All workers should use personal protective equipment whenever possible.
Practice sanitation and safety guidelines as prescribed by the Association of General Contactors (AGC) and Center for Disease Control (CDC) and the Panhandle Health District
Currently, our inspectors are not entering occupied residential homes to conduct inspections. Virtual inspections conducted by video calls (i.e. FaceTime, Skype, etc.), are an option. Photo documentation may be accepted with prior approval by inspector. Please communicate and work directly with the applicable inspector to determine if virtual inspection and/or photo documentation can be accomplished in your specific situation.
Thank you for your cooperation. Working together, we can make it through these challenging times.

The online service (login on right sidebar) is intended to simplify the permit process for our customers. It is a customer-friendly tool in which architects and contractors can use to apply and pay online for:
Residential Building Permits (Plan Check Fee)
Plumbing Permits
Mechanical Permits
Re-Roof Permits
Through the login, customers can access permit information by clicking on "Manage Permits".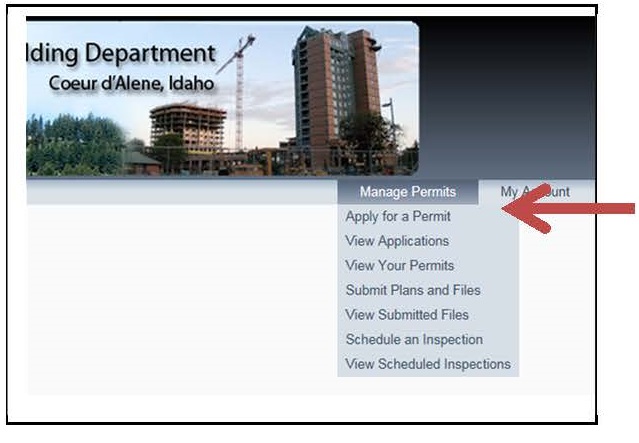 You are able to apply for a permit, view applications, view permits, submit plans and files, view submitted files, schedule an inspection and view scheduled inspections.
To apply for a permit, simply select the permit type. Enter the permit information. Click "Calculate Fees" and then add the permit to the shopping cart. Once added to the shopping cart, just follow the instructions to pay with a credit card. The paid permits leave the cart and are electronically submitted to the building services for processing.


Once the credit card payment is processed and approved, the submittal is forwarded to a queue and our permit technicians receive notification a submittal is waiting. We review, approve and issue Plumbing, Mechanical and Re-Roof permits as quickly as possible. Building permit submittals are routed for plan review. After all applicable City departments have approved the building permit; a "Permit Ready Notification" is emailed to the customer notifying them the building permit is approved. A link is included in the email to download and print the approved set of plans. The customer then prints the approved plan set (full size) and delivers this approved copy to Building Services with payment. We then issue the permit(s). The permit(s), a green inspection card and the printed approved plan set are the on-site permit package and shall be available to the inspector throughout the construction project.
Customer service is extremely important to us, and we are here to answer any questions our customers may have.
Please contact us at (208) 769-2267. We are here to serve you.