CONNECTING WITH STUDENTS: City of Coeur d'Alene staff members from the building and planning departments were invited to Fernan STEM Academy yesterday morning to talk to Ms. Pam Kiefer's 5th grade class. Mike Behary (Planning), Keith Clemans (Building), and Sean Holm (Planning) spent an hour discussing a future on-site accessible trail the class has been designing that includes amenities like an outdoor classroom, weather station, etc., and what city planners and building inspectors review and approve as part of a building permit. Jon Mueller of Architects West has been working with the class for many weeks and felt it would be great exposure for the kids to have city staff describe our processes. The time was well spent and the children were excited and thoughtful in their questions.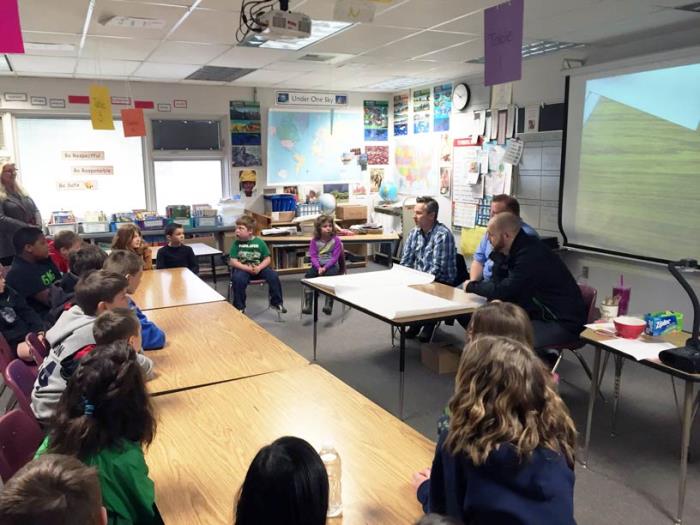 Young "Planners" Inspired by CDA Planner Sean Holm
July 9, 2015 Gizmo's "City Planners" Summer Camp Class


Eight kids ranging in age from six- to nine-years-old experienced a deeper understanding of the important role planning plays in building a community when Coeur d'Alene City Planner Sean Holm visited the group earlier this week.
The inquisitive youngsters are taking part in a city planners group hosted by Gizmo-CDA, a non-profit organization that blends art, design, technology and tools to enlighten young minds.
Gizmo Executive Director Barbara Mueller said the students have been discussing transportation, the environment, waste and sustainability to gain a deeper knowledge of the role planning has in building a healthy community.
Meeting with the youngsters on Thursday morning, Holm discussed a variety of city planning issues, including the revitalization of East Sherman Avenue and land use issues across the city. He also solicited their views on a variety of planning topics.
"It was a great group of kids that wanted to know how a city is built and what goes into it from a planning perspective," Holm said. "I hope they gained a deeper understanding of community and what it takes to make it a great place to live."
Holm's definitely had an impact on the Gizmo students, Mueller said.
"They loved that he talked about the history and how Coeur d'Alene grew up …" she said. "(Student) Brody has decided that he wants to be a city planner; he loves maps and when (Sean) brought them out, it sealed it for him," she added in a note to the city planning department.
"Huge thanks for coming to their city planning session," Mueller concluded.