City of Coeur d'Alene's 2022-2042 Comprehensive Plan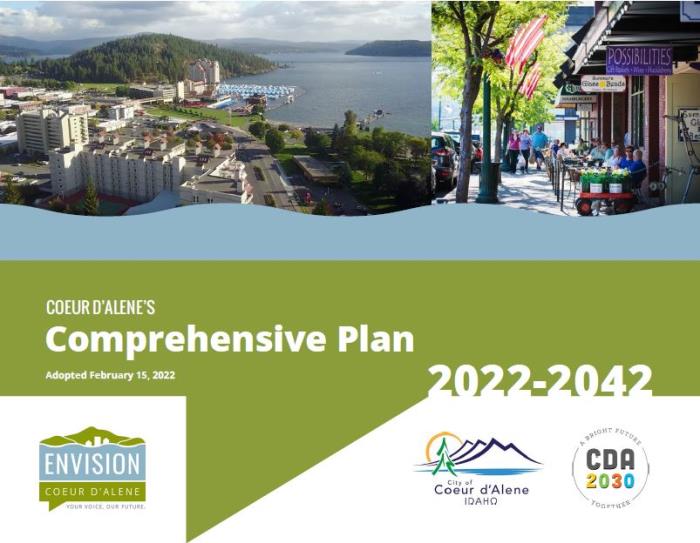 (Click here for a PDF copy of the plan)
Planning Commission and City Council, the public, CDA 2030, community members serving on the Community Advisory Committee (CAC) and Focus Group members, city staff and our consultant MIG have worked diligently over two years for a new 20-year comprehensive plan to help guide future growth and which will serve as a strategic plan for the community.
The City of Coeur d'Alene's 2022-2024 Comprehensive Plan was recommended for approval by Planning Commission on February 8, 2022, and subsequently adopted by City Council on February 15, 2022.
There have been many requests for a copy of the Future Land Use Map. It can be found on page 43 of the PDF or
click here
for a high-quality stand alone version the map. Note that the Place Types associated with the map are found in the plan following the map (pages 44+).
As a part of this process, transportation and the local economy were identified as high-priority topics as a part of the 17 elements required by the State of Idaho, which must be addressed in every comprehensive plan in our state. As such, both of these topics were studied using professionals in their fields as subconsultants to MIG. Their findings are referenced throughout the plan; but if you'd like to take a deeper dive into the studies that helped inform the document, below are copies provided for your review:
Economic Development Analysis
(Prepared by Bridge Economics)
Land Use Scenario Comparison: Transportation
(Prepared by Kittelson & Associates, Inc.)

The Comprehensive Plan is available via download, printed color document ($24), or burned to a CD-R ($1) for those who want it in an alternative format.




The City's new 2042 Comprehensive Plan (Envision Coeur d'Alene) was awarded the 2022 Outstanding Plan Award by the Idaho Chapter of the American Planning Association on October 6, 2022 in Garden City, Idaho. Thank you to the community members, volunteers and organizations who participated in the process!