Urban Forestry
ARBOR DAY 2023
Trees and shrubs planted along city streets, in public parks, and on private property provide a variety of benefits to people and the environment. By providing shade and reducing glare from pavement, sidewalks, and buildings, trees and shrubs aid in energy savings. A healthy urban forest will filter carbon dioxide and other airborne pollutants, reduce storm water runoff, and shade parking lots, streets, residential areas, and businesses. A city's trees help to maintain windbreak protection, abate soil erosion, muffle noise, provide visual screens, and increase property values.

From the air, Coeur d'Alene looks very much like a community set down within a forest of trees. In addition to beauty, trees provide a variety of practical benefits to communities including; reduction of air pollution, screening of views and noises, decreases in storm water run-off, and the saving of energy costs through shading.


Coeur d'Alene's Urban Forestry program seeks to preserve, protect, maintain, and enlarge the city's urban forest to optimize these benefits. To accomplish this goal, the city has established care standards for public trees (park trees, street trees, and trees growing on other city-owned properties), licenses tree services, has a permit system for street trees, and provides a variety of tree planting and care information. Although Coeur d'Alene's urban forestry ordinance primarily addresses public trees, much of the information available on this web page is useful throughout the community.

Public tree removal without a permit is a violation of the city ordinance and can result in a misdemeanor penalty in addition to a fine in the amount of the appraised tree value.



Cost-Share Tree Maintenance Program
Residential Street Tree Requirement
Re-Leaf CDA - Tree Planting
Donation Tree Program

Historic, Unusual and Big Trees of CDA
Phippeny Tree Guide
Bloom Report
Community Canopy (CC)
CC V.I.P. Pruning
CC Landscape of Excellence
LET'S TALK TREES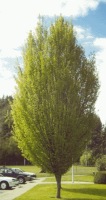 Benefits of
Trees
Morning Walk On Tubbs Hill


NEWS & EVENTS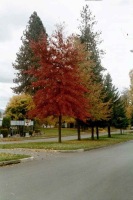 Arbor Day
Leaf Us A Note
Urban Forestry related questions, please call 208-769-2266.