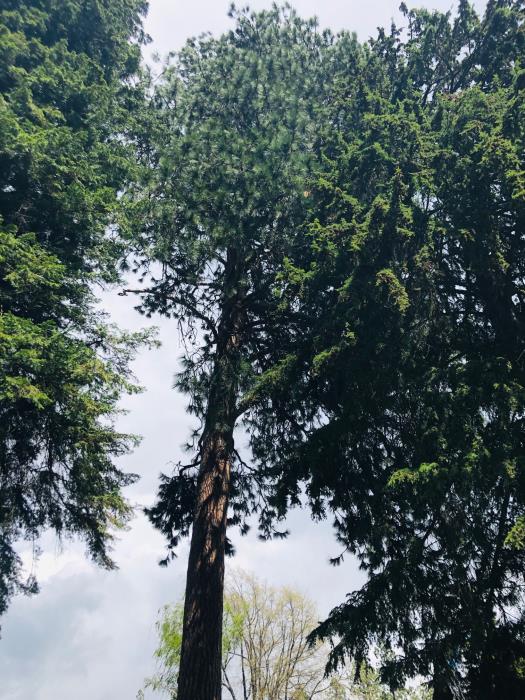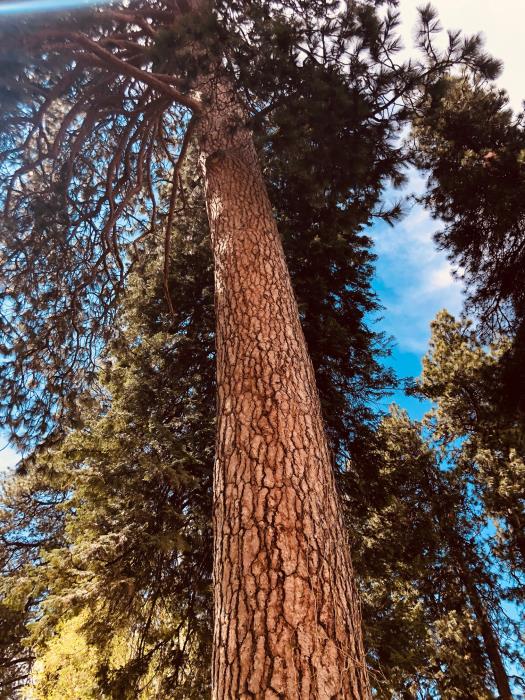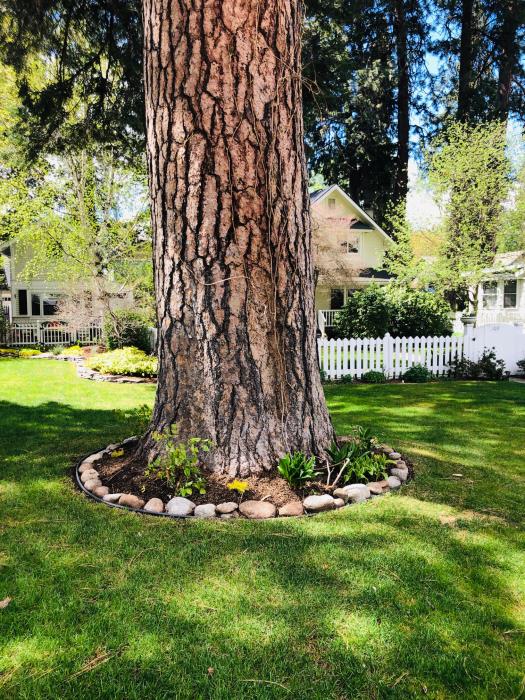 "BIG BERTHA"
We are the proud owners of "Big Bertha", who is on the National Historic Register of Trees and is the oldest living Ponderosa Pine in a residential neighborhood in Idaho. In 1998, she was core dated 235 years old which would make her 257 years old now. She is over 150 feet tall and more than 14 feet in trunk circumference. Big Bertha is stately and majestic and precious to us and the community. We also have 2 other Ponderosa Pines in our yard that are around the same era. They frame our Historic Home in Fort Grounds.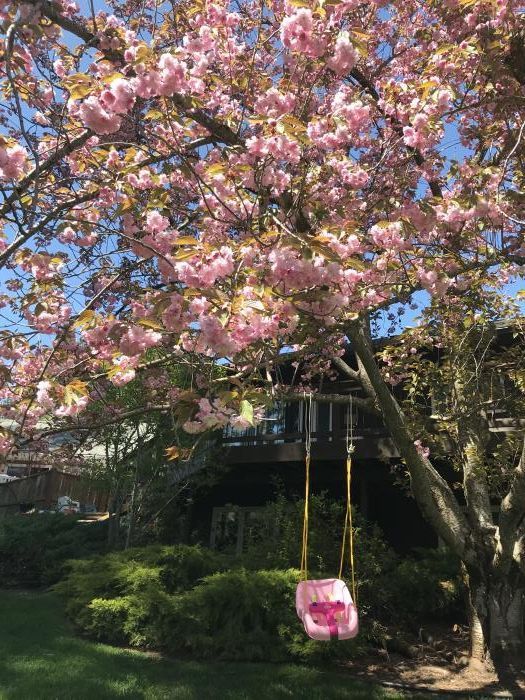 "
A SIMPLE DREAM"

In the summer of 1991 we were landscaping our new home. We wanted a tree for all seasons and chose this tiny ( at the time ) Ornamental Cherry Tree. We imagined that if it grew big enough and our family also grew, we would be able to hang a swing for our, yet to be born, grandchildren. Well, guess what? The tree grew and the granddaughters arrived. A simple dream came true!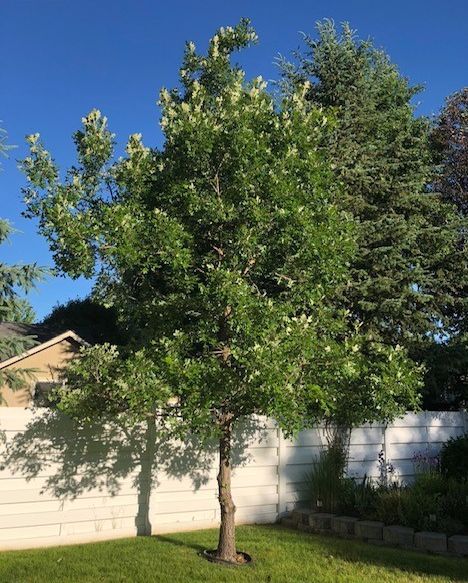 "HOME, FAMILY, GROWTH AND LOVE"

This tree means everything to me! It symbolizes Home, Family, Growth and Love. This Beautiful Pin Oak was brought home to me Arbor Day 2002, when my daughter Makena attended the 4th Grade at Borah Elementary. They gave trees out in honor of Arbor Day. It was a tiny stick of a tree. I planted it, nurtured it, and celebrated its growth every year, as I did the growth of my daughter. As it grew so did, she. It grew into a strong, beautiful tree, just like my now 28-year-old daughter grew into a strong and beautiful woman!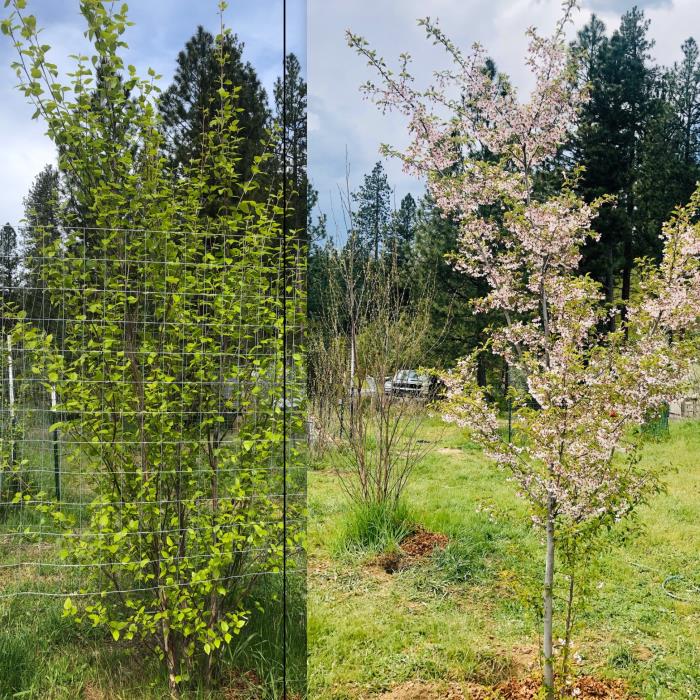 "TRADITION OF TREE-PLANTING"

Our Tradition of tree-planting began four years ago. On that day. April 9th, 2016 I was expecting my 6th Child. My husband took our five other kiddos with him to go stand in line to get the trees. Then I got a phone call from him asking for HELP! The line was long and the little ones were getting restless. So I drove over to help him stand in line to get our trees. I, being the stubborn one, decided perhaps carrying a tree or two might help my yet unborn baby to show up sooner rather than later. I marched down there to where the trees were gathered and took a birch tree in one hand and a flowering cherry in the other and loaded them into the truck. Once we got home, my husband and sons quickly got busy with digging holes for my prized new trees after I showed them the best place I thought they should go. So while they planted trees, I scrubbed my kitchen floor, still hopeful my newest son would grace us with his presence soon. 5 hours later, after the trees were planted in their final home, we did in fact get to greet our newest member of the family! So now we look at those trees as Aidan's birthday trees and every year to commemorate his birth day we plant a tree on our 5-acre home on the prairie.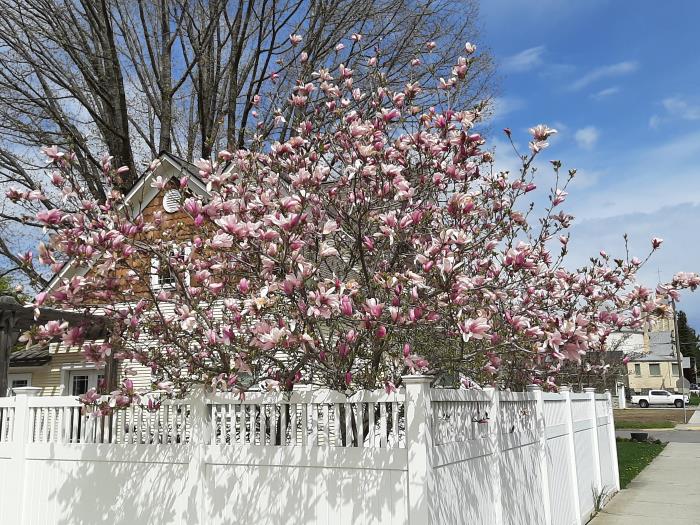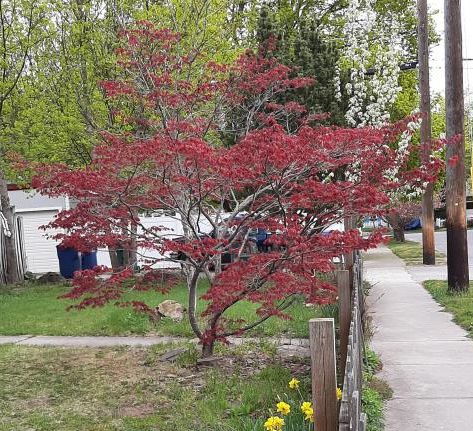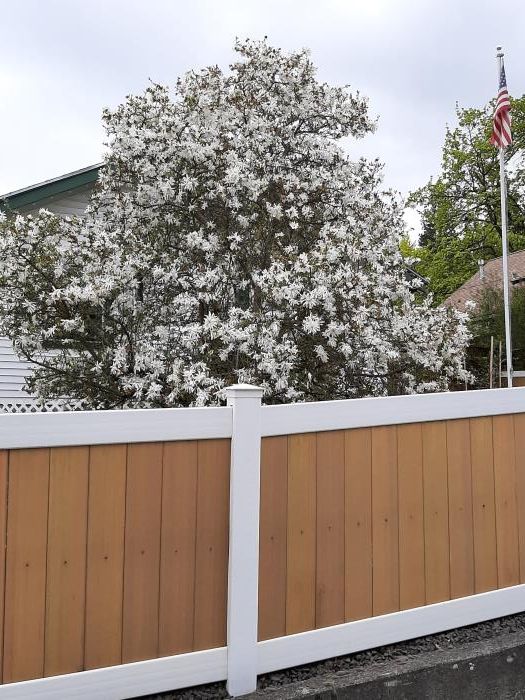 "GARDEN DISTRICT TREE WALK"

Although not a "traditional" entry these trees were sent to the city as a resident's favorite trees in the Garden District. Perhaps while on a walk in the Garden district you can find this Pink Magnolia tree, Japanese maple and Serviceberry tree.


WE HOPE YOU CONTINUE TO CELEBRATE TREES EVERY DAY AS WE DO AT THE CITY OF COEUR D'ALENE URBAN FORESTRY DIVISION! AND COME VISIT US NEXT ARBOR DAY!