City CDBG Community Events


---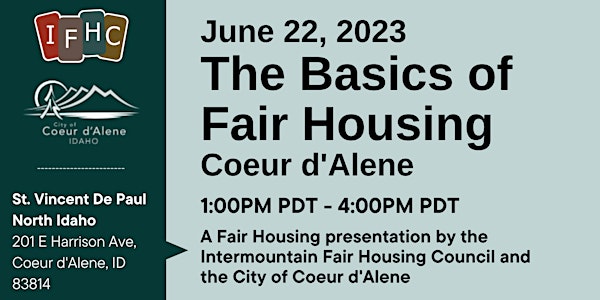 Tickets for Fair Housing Training

---

Notice of Public Forum,
Public Comment Period, and Public Hearing on the City's 2022 CDBG Annual Action Plan
The City of Coeur d'Alene will be drafting an Annual Action Plan for the use of Community Development Block Grant (CDBG) funds for the plan year (PY) 2022. The City will receive CDBG funds in the estimated amount of $360,490 for PY2022 beginning July 1, 2022.
CDBG funds can be used for local community development activities in order to benefit low to moderate-income residents and neighborhoods. As a federal program, CDBG funds can be used to aid in the prevention or elimination of slum and blight, benefit low and moderate-income persons, and meet certain community development need having a particular urgency. Low and moderate income (LMI) is characterized as households whose income is at or below 80% of the local median income.

For 2022, the income range can be found here.
The draft Annual Action Plan for PY2022 will be available for review and comment for a period of 30 days from May 20, 2022 to June 21, 2022. It will be available on the City's website at www.cdaid.org/cdbg or in person at City Hall, 710 E. Mullan Avenue, Coeur d'Alene, Idaho 83814.
A Public Forum will be held in person and virtually to inform residents on how CDBG funds were used in past program years and to obtain citizen input about current needs and spending priorities for PY2022 on June 7, 2022 starting at 1:00 p.m. at City Hall, 710 E. Mullan Avenue, Coeur d'Alene, Idaho in Conference Room 5, and via Zoom at:
By Computer
https://cdaid-org.zoom.us/j/98143595838?pwd=RWEyZ2dIRXorczJMTjJCQWEydmh0UT09
By Phone
877 853 5257 US Toll-free
888 475 4499 US Toll-free
Meeting ID: 981 4359 5838
Passcode: 356443
To submit written comments or for more information, contact Chelsea Nesbit at 208-769-2382 or by email at cnesbit@cdaid.org.
A Public Hearing to consider any and all public comments will be held at a regular meeting of the City Council on June 21, 2022 at 6:00 p.m. at City Hall, 710 E. Mullan Avenue, Coeur d'Alene, Idaho. For the meeting agenda and details on how to participate, visit https://www.cdaid.org/council/council-agenda-packets prior to the meeting.

The 2022 Draft Annual Action Plan can be reviewed here: 2022 Draft Annual Action Plan

**Note: Citizen Participation and Public Comments sections will be updated after the Public Hearing is completed and all public comments have been received.