Coeur d'Alene Arbor Day Celebration – May 1st
The City of Coeur d'Alene will hold an Arbor Day celebration on Saturday, May 1st with a tree planting at McEuen Park.
There will be a small ceremony afterward where coffee and donuts will be available. During the Ceremony, The City of Coeur d'Alene will be presented with the Tree City USA Award for the 37th year.
The City of Coeur d Alene, in conjunction with the Arbor Day Organization of North Idaho and Bartlett/Northwest plant healthcare, will be handing out tree seedlings, we will also be holding a free raffle for a few larger scale trees. The Arbor Day Organization of North Idaho has given away over 74,000 trees (more than 70 different species) to local 4th graders since 1987.
There will be tree information, door prizes and donuts and coffee sponsored by Sun Valley Tree Service Inc.
This event is open to all who wish to come celebrate Arbor Day, the tree planting will take place at 11:00 the Ceremony will follow at 12:00 seedlings and lunch will be on a first come first serve basis.
For more information about any of this, contact the City of Coeur d'Alene Parks Department at 769-2266 or see the website at www.cdaid.org/parks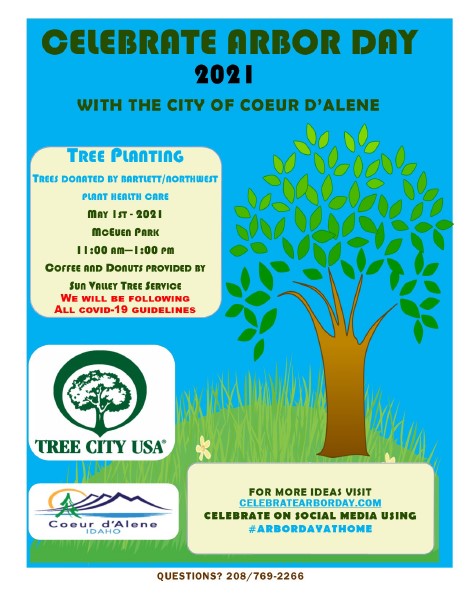 Also Help the City of Coeur d'Alene Celebrate Arbor Day 2021 at Home!
The City of Coeur d'Alene is dedicated to our urban forest and has been recognized as a Tree City USA the last 37 years. Every year in April we hold an Arbor Day celebration usually involving free seedlings, tree planting, art contests, and a free meal for attendees. This year we are holding a small-scale event but also would like to give people the option of celebrating Arbor Day at home!
The City of Coeur d'Alene Urban Forestry Division is dedicated to celebrating Arbor Day and providing information to the public regarding trees. We are asking for the people of Coeur d'Alene's help in celebrating Arbor Day from home this spring. At no time are the benefits of having trees in our urban areas more evident than during times of self-isolation. Trees have a huge impact on our health and mood and they can help us to feel more connected to our environment especially if social distancing and avoiding crowds.
We know that you have trees at your home or property that are important to you. Maybe they were planted to signify an event, maybe you have a tree grown from an Arbor Day seedling, or maybe you just have a unique or beautiful tree and we want to see your trees!
If you are a Coeur d' Alene homeowner please send us a picture of a tree in your yard and tell us about it. If you know, tell us what kind of tree it is or maybe we can let you know? Tell us your story, in one paragraph: Why is this tree important or special to your family? The City of Coeur d'Alene Urban Forestry Committee will review all of your wonderful submissions and will select the top 5 that are especially rare or beautiful or have the best stories. These "winners" will receive a free tree delivered to their home this fall to plant on their property. We hope to create an online photo gallery so you can see all the photos and read people's stories.
please contact the Urban Forestry office if you have questions about working on public trees. We are open and always willing to provide info and help, and, we invite you to celebrate Arbor Day 2020 with us in this unique way.
*Details: By submitting photos and stories you give permission to the City of Coeur d'Alene to use and share your submission online. In order to participate, homes must be within the incorporated Coeur d'Alene City limits. Timeline for submitting tree photos and stories begins on Arbor Day, Friday May 1st 2021 and ends Monday May 31st 2021. Planting permits are required if planting trees in the public right of way abutting your property. Please submit all photos and stories to ngoodwin@cdaid.org.
For more information, contact the City of Coeur d'Alene Parks Dept. at 208-769-2266, or visit our website at www.cdaid.org/parks.

/files/Parks/Arbor_Day_At_Home_Submission_Form.pdf