Centennial Trail
Description
The North Idaho Centennial Trail is 23 miles long, extending from the Idaho/Washington state line to Higgins Point, 6 miles east of Coeur d'Alene at the end of Coeur d'Alene Lake Drive. You can walk, jog, or bicycle on a Class I & II paved trail. At state line, it connects with the Spokane River Centennial Trail, which extends through Riverfront Park (22.5 miles west of the state line) and on to Nine Mile Falls.

Maintenance and Operation
Operation and maintenance of the Idaho Centennial Trail is a cooperative effort of the City of Coeur d'Alene, the City of Post Falls, Kootenai County, Idaho Department of Parks and Recreation, and the North Idaho Centennial Trail Foundation.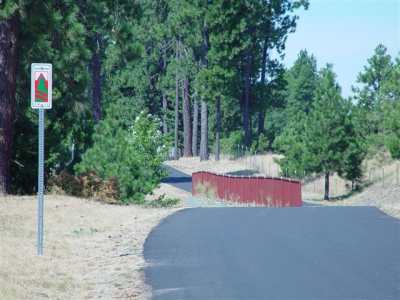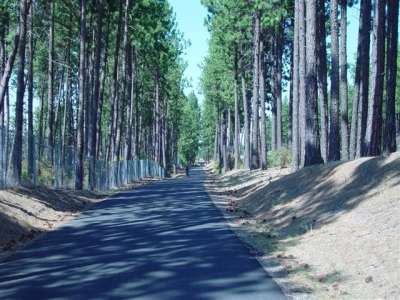 Special Activities Permit
Any group wanting to have a special activity using any part of the Centennial Trail must obtain a "Special Activities
Permit." Activities requiring a permit include marathons, triathlons/biathlons, bicycle rallies, walkathons, and foot races/runs. A
Special Activities Permit is available from the Coeur d'Alene Parks Department office at 710 E. Mullan Avenue, Coeur d'Alene, ID
83814, or the Post Falls Parks Department.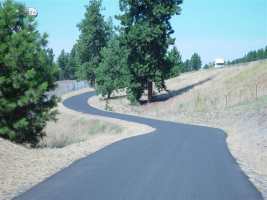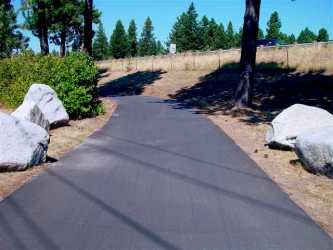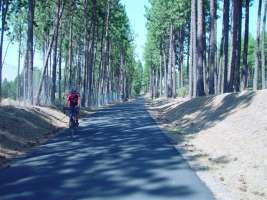 Donation
Recognition
A Centennial Trail monument is located at Independence Point by Lake Coeur d'Alene. This is a good way to show support for the
trail, recognize special people, or establish memorials. To have a name engraved on the monument, please
contact us
or send it exactly as you
would like it to appear (not to exceed 22 characters) along with a contact name, address, phone number, and a check or money
order in the amount of $150 to: The North Idaho Centennial Trail Foundation, P.O. Box 5163, Coeur d'Alene, Idaho 83816.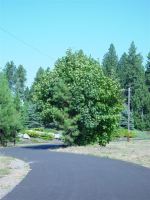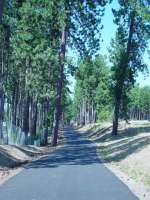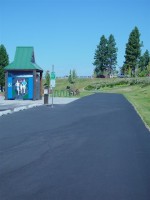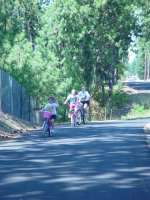 Centennial Trail Rules and Regulations
The following rules and regulations help to protect the trail and trail users:
Keep to the right of the trail

Alcoholic beverages prohibited

Pedestrians have right-of-way

All users remain on designated trails

Bicycle speed limit:15 mph

Maximum of two bicycle riders abreast at any time; if pedestrians are present, only one allowed

Do not disturb plants or animals

No structures, including vending equipment, are allowed

No motorized vehicles allowed on trail
North Idaho Centennial Trail Foundation
The non-profit North Idaho Centennial Trail Foundation assists with maintenance and capital improvement of the Centennial Trail,
as well as supports the development of new trails in Kootenai County. For information regarding current projects and membership
in the Foundation, email: The Centennial Trail Foundation
or write to:

P.O. Box 5163
A printed map of the Centennial Trail can be picked up at the Coeur d'Alene Parks office, Post Falls Parks office or the Visitor's Centers in Coeur d'Alene or Post Falls.

For information on how your organization can become involved in our "Sponsor-A-Mile" program contact Theresa MacLennan at (208) 292-1634.