Councilmember Woody McEvers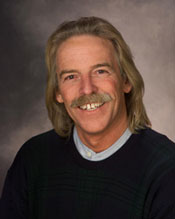 Woody McEvers has called North Idaho home since 1978, after leaving the beaches and desert of Southern California. He and his brother Daren purchased the popular downtown Coeur d'Alene restaurant Rustler's Roost in 1983.
His city experience started with the Traffic Safety Commission in September, 1995, where he served for two years. He was then appointed to the Planning Commission in May, 1997 and served for five years.

Elected to the City Council in 2002, Woody believes government should be responsible to its citizens through honesty, integrity, and fiscal responsibility. Woody serves as Chairman of the Public Works Committee and is Council President. He was also instrumental in the creation of Coeur d'Alene's Government Cable TV station, CDA-TV. Woody is also Chairman for the Kootenai County EMS System and has served since 2004.

During Woody's years of service, many important projects have been accomplished. Riverstone Development, KROC Center, the new Library, expansion of our Wastewater Treatment Facility and creation of the City's newest water well. Along with the "gem" of McEuen Park, Woody is looking forward to the completion of the BLM park corridor facilities and a new Skate Park.

Woody hopes the Government TV Station will continue to grow and add the Kootenai County Commissioners meetings and possible other cities's meetings and continue the broadcast of North Idaho College Board, Hayden City Council and CDA School District 271 meetings.

Woody said, "I really believe we, the Council, Mayor and staff, strive to do what is best for Coeur d'Alene citizens today and for the future. One person can make a difference." He encourage our citizens to engage the Mayor and Council as to what they feel is important and to consider getting involved in our great city.
wmcevers@cdaid.org
(208) 691-5303