About Us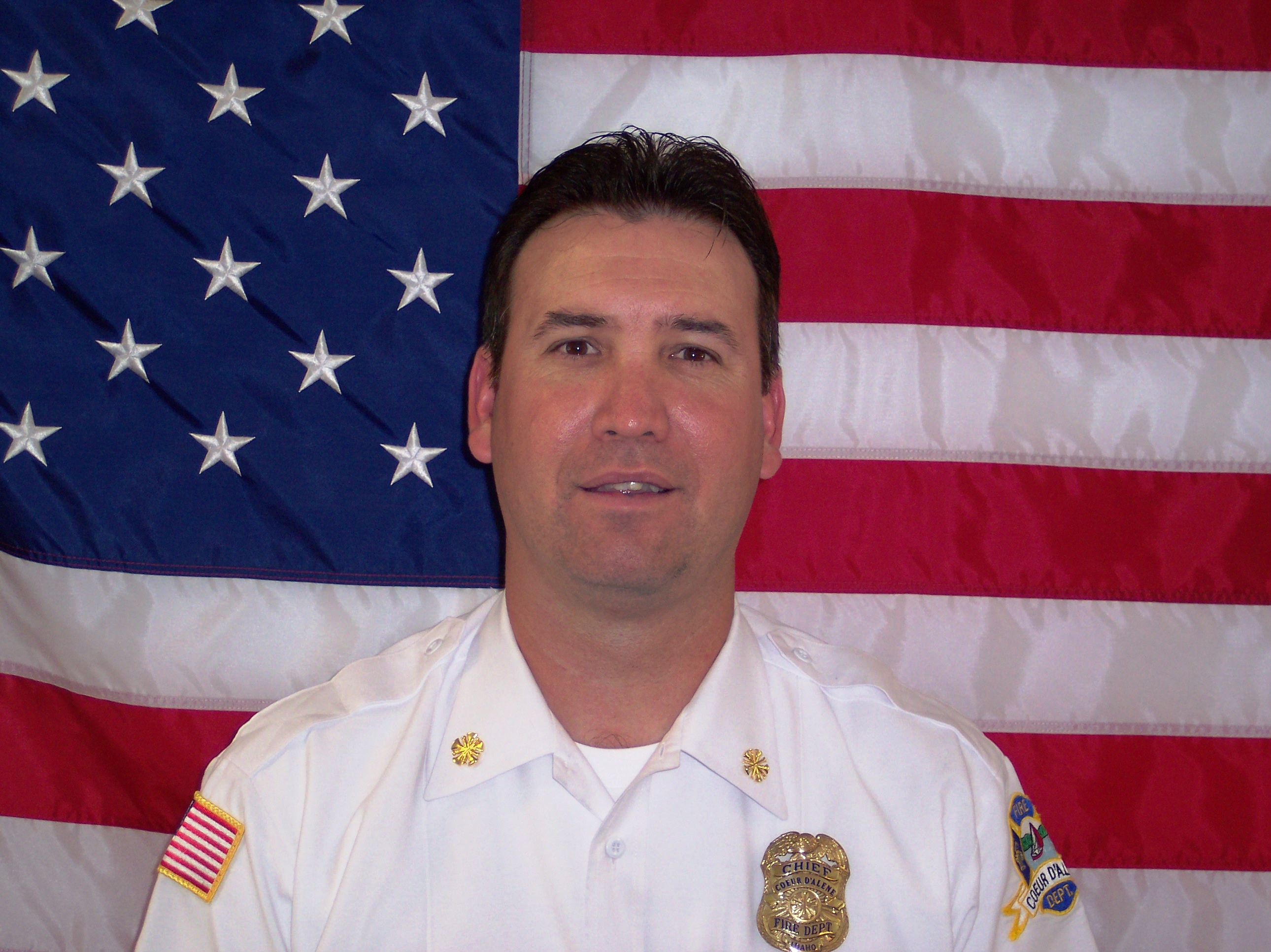 A Word from the Chief
Welcome to the web site for your Coeur d'Alene Fire Department. Please explore the various pages of the site and meet our dedicated personnel. Also you can learn about our equipment, our programs as well as discovering fire safety tips for your home and business.
The Coeur d'Alene Fire Department is a class three rated City by the Idaho Survey and Rating Bureau. That is as favorable a fire defense rating as there is in our State. We are a full service Fire Department providing fire, emergency medical first response and transport, and technical rescue services to our valued residents and visitors. Last year we responded to over 8,000 calls for service which makes us the second busiest Departments in our State. We do this out of four fire stations and a minimum on shift staffing level of 17 personnel. Fire Station one houses our Ladder Company, a brush truck and a paramedic ambulance. Station two houses an engine company and a paramedic ambulance, station #3 houses an engine/rescue company and a brush truck. Station #4 also houses an engine company
As members of the Kootenai County Emergency Medical Services System (KCEMSS) we provide Paramedic coverage as well as transport responsibilities to the southern part of Kootenai County. We offer continuing education as well as a quality assurance program to volunteer ambulance services in our response area. All members are certified to at least the EMT-D level with a majority being certified to the EMT-Intermediate level. We have paramedic's at all four stations.
We are proud to be one of three State of Idaho Technical Response Teams. Along with the Boise Fire Department and Pocatello/Twin Falls Fire Departments we will provide technical response to our State. We are also very proud to partner with the Idaho Disaster Dogs, a K-9 search and rescue team made of members of our Department. This team works closely with the Washington Federal Task Force and was deployed to the Disaster in Oso, Washington.
Our special events section is continually working to plan and organize the many events held in our City. The biggest is Ironman Coeur d'Alene where over 2,000 athletes from through the world compete in this grueling event.
We are very excited to be finishing a number of very exciting projects, thanks to the voter approved General Obligation (G.O.) Bond in May of 2015 and support from our City Council. First and foremost we want to always strive to maintain appropriate response times. With the growth in the Northwest part of the City it has become apparent that we need to enhance our presence in that area. We have finished construction of our fourth fire station on Atlas road and it is now fully operational. We are also working on a shared public safety facility with the Police Department on the Cities North Campus. This building will allow us to properly store and maintain readiness for a number of response vehicles. With funds from the G.O. Bond we are in the process of replacing our entire fleet. We have a new boat ready for this year's boating season. This is a very exciting time for the Department as we strive to provide superior Service to those who live and play in our wonderful City.
If you have any questions, please do not hesitate to contact me or any member of our staff. We are here for one and only one reason, to serve you.