Public Art Education Corridor Roundabouts
Education Corridor Roundabouts Public Art
"The Gift," "Trilogy," and "Intersection"
Commissioned in 2012 by the Coeur d'Alene Arts Commission, this project was presented to artists nationwide, with artwork being designed to embody the diverse and rich history, the vibrant present, and the bright future of this area.
The art piece entitled "The Gift" by Oregon artist C. J. Rench, depicts two hands reaching toward the sky holding an abstract drop of water, paying tribute to the Coeur d'Alene lake and how it is the center of the history, community, and the entire area.
The piece entitled "Trilogy" by local artist Michael Horswill, consists of three abstract, figurative totems uniting the stories of three groups in our community: the members of the Coeur d'Alene Tribe and their ancestral meeting place; the students, teachers, and staff members of the Education Corridor; and the wider community of Coeur d'Alene that is building a future of creative possibilities.
The last piece by local artist Allen Dodge, consists of a large circular saw with a banner of brightly colored vitreous enamel "bead work," a true to life example of traditional Coeur d'Alene tribal artwork.
The artwork was dedicated on October 24, 2012.
You can also view this Youtube video for more information concerning these art pieces.
(This link is not hosted by the City of Coeur d Alene, and you will be leaving our website in order to visit.)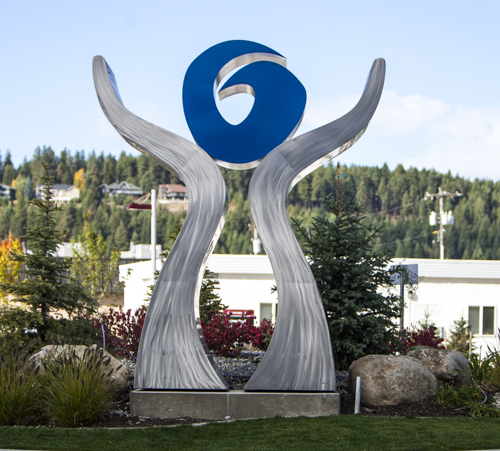 "The Gift"
Artist: C. J. Rench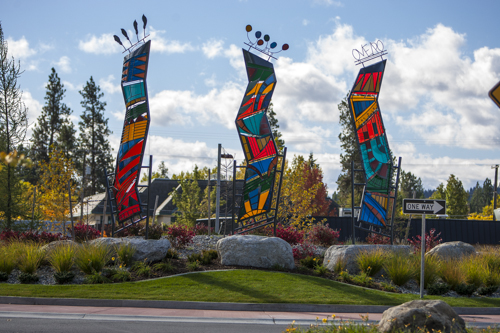 "Trilogy"
Artist: Michael Horswill
"Intersection"
Artist: Allen Dodge