With spring in the air and everyone spending so much time at home, people are out working on their yards. Spring usually gets people thinking about tree work at their homes, and the Urban Forestry Division of the City of Coeur d'Alene Parks Department feels it is important to get the word out on the process required for working on public trees.
First, you may ask:  What is a public tree? City code requires that all residential properties have a minimum of one tree planted per frontage. This is a public right-of-way area and any tree planted in that area is, therefore, a public tree.  For commercial properties, the code is a little different but it requires trees to be planted in street frontages and spaced according to code. The City of Coeur d'Alene requires that trees be selected from our approved street tree list. Public trees also include any trees planted on public property such as parks, beatification areas, and City-owned natural open spaces, etc.
The owners of private real property that abut rights-of-way, also called the "Controllers", share with the City a responsibility for the stewardship of the city's street trees. By maintaining those trees within the right-of-way adjacent to their property, it contributes to the beauty of the City's streets.  Property owners are responsible for the following.
Caring for and maintaining public trees and shrubs adjacent to their property;
Meeting requirements and obtaining all permits;
Trimming or pruning trees for clearance over sidewalks (7') and streets (14')
Spraying to control insects and diseases;
Removing trees and shrubs, public or private, declared to be a public nuisance;
Replacing trees or shrubs that have been removed
Repairing damage to street, sidewalk or curb caused by public or private trees or shrubs;
Remove and replace public trees which have been topped or improperly pruned.
When it comes to working on trees, permits are required before planting, pruning, root pruning, or removing trees within the public right-of-way. Tree permits are free of charge and allow the City to provide property owners with information on correct procedures and keep the tree inventory up-to-date.
If you are hiring someone to do tree work, you must use a City-licensed tree service and all removals must be pre-approved. When it comes to removal, all stumps must be ground and, generally, a replacement tree is required.  If you are going to do the work yourself, a permit is required for pruning, and a permit and hold-harmless agreement are required for any pre-approved removal of a public tree.  These requirements do not apply to trees located within the property lines, or "private trees."  However, there is a hillside ordinance where permitting is required for private tree removal.  Please contact the City of Coeur d'Alene for more information if you feel this may apply to you.
"Topping," "Hat-racking," "cutting back," or "rounding over" is harmful to the health and safety of trees and is not an acceptable pruning practice to use on public trees. If this type of pruning is performed the, property owner can be required to cover the entire cost of removal and replacement of the tree or trees.  Proper permitting and use of licensed tree services can prevent this from happening. Following City code is required and in the best interest of both the property owners and the trees they are responsible for.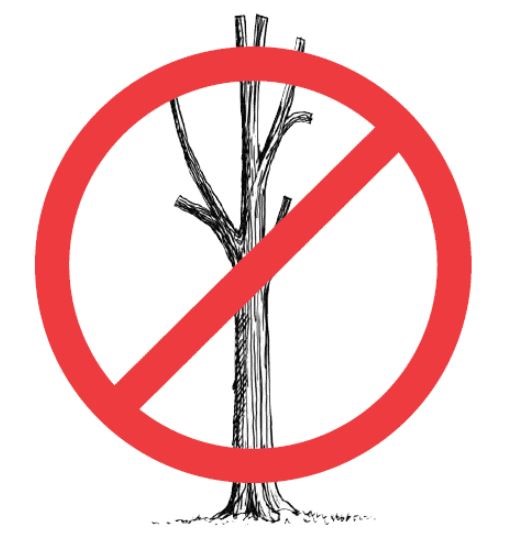 The City of Coeur d'Alene does not currently have a city tree crew. To help alleviate some of the cost associated with caring for public trees, residential homeowners can apply for our Cost-Share Program.
Through the Cost-Share Program, the City will distribute up to half the cost of pruning and removal of public trees. The program pays up to $200 per tree for pruning and up to $400 per tree for removals, with a limit of $600 per parcel in a 36 month period. All codes must be followed and the work must be done by a City-licensed tree service to use the program.
The City of Coeur d'Alene Urban Forestry Division is your ally in caring for public trees, and all trees, properly. Please contact the City of Coeur d'Alene Urban Forester with any questions regarding public trees and Urban Forestry ordinances. Also, feel free to contact the Urban Forestry office with any questions regarding tree selection and tree care. All information regarding the responsibilities of property owners, ordinances and Urban Forestry programs is available at https://www.cdaid.org/806/departments/parks/urbanforestry. You can also contact the Urban Forester, Nick Goodwin, at (208)769-2266 for more information or email at ngoodwin@cdaid.org. These ordinances and programs apply only to properties located within the incorporated Coeur d'Alene city limits.