2017 Sewer Open Trench Projects
Each year, as part of an ongoing Sewer Infrastructure Rehabilitation Program, the City of Coeur d'Alene Wastewater Utility Department undertakes several sanitary sewer projects to rehabilitate or replace the main sewer pipes. These projects are needed to improve the system's reliability, functionality and to extend the system's useful life.
This year, contractors will be replacing approximately 2,500 linear feet of sewer mains including lateral reinstatement, surface repair and other associated work at the following four different locations:
GARDEN AVENUE BETWEEN MILITARY & PARK DRIVE
ALLEY BETWEEN NORTH A & B STREETS AND SHORT & WALNUT AVENUE
HASTINGS AVENUE BETWEEN 16TH & 19TH STREET
PINES AVENUE BETWEEN TUBBS HILL & 8TH STREET
Contacts:


Project Manager: Mike Becker, City of Coeur d'Alene, (208) 769-2268, mbecker@cdaid.org
Project Engineer: Pete Stayton, P.E., JUB Engineers (208) 762-8787, pstayton@jub.com


News & Information:


Advertisement: January 23 & 30, CDA Press
Project Plans: Linked Here (Note: Large file. Right-click and choose "Save Us" to download)
Pre-bid Conference: 10:30 a.m., January 31, 2017, Wastewater Utility, 765 W. Hubbard Ave.
Bid Opening: 2 p.m., February 7, 2017, City Hall, 710 E Mullan Ave.

Bid Breakdown:
Bidder

Schedule A,B,C Base Bid

Schedule D Additive Alternative

Total Bid

Big Sky Development

$ 323,564.35

$ 115,092.44

$ 438,656.79

T. LaRiviere Equipment, Inc.

$ 394,779.70

$ 172,508.00

$ 567,287.70

S & L Underground

$ 438,699.00

$ 186,205.00

$ 624,904.00

Engineer's Estimate

$450,000 to $500,000

Contractor Awarded Project: Big Sky Development
Preconstruction Meeting: 10 a.m., March 13, 2017, Wastewater Dept., 765 Hubbard Ave.
Open House Meeting: 6:30 p.m., March 15, Boys & Girls Club, 925 15th Street, CDA
6:30 p.m., March 16, Wastewater Dept., 765 Hubbard Ave.
Start-up Date: April 1, 2017 Actual Start-up Date: Pending
Substantial Completion Date: June 1, 2017 Actual Completion Date: Pending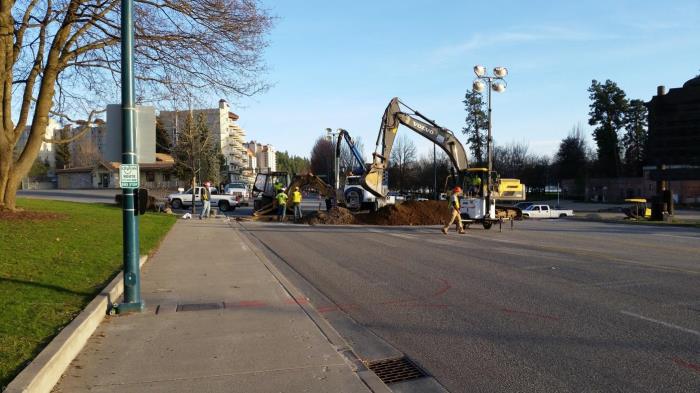 Project Updates: 3/03/17 Big Sky Development returned signed contract to City. Contractor is also working on Product Submittals. City is coordinating Preconstruction Meeting, Open House Meetings to get the public's feedback and working with North Idaho College (NIC) to minimize road closures and detour routes within Fort Grounds Area.

10/31/2017 - Project Closeout Update: Despite an unusually rainy spring, Big Sky Corporation completed the projects on time and within budget. Instead of City Streets Department completing this project's roadway restoration, crews were reallocated to repairing streets damaged from the previous winter. To meet project deadlines and avoid extensive summer road closures, the road prep and paving was completed by the lowest responsive bidder's subcontractor, CDA Paving resulting in only 7.2% in Unforeseen Cost Overages. Project Change Orders made up approximately 2.7%. Streets, Storm, Water and Wastewater improvements were completed under one project umbrella. No Reported Accidents, Minimal Complaints (3), and 3 additional Pedestrian ADA Ramps were added in the Fort Grounds area. Project Warranty Permit Walk thru is scheduled for 04/30/2018.


2017 SEWER OPEN TRENCH PROJECT CONSTRUCTION SUMMARY

Engineer's Estimate

$450,000 to $500,000

Contractor: Big Sky Development

Bid

Actual

Schedules A, B, & C

$ 323,564.35

$ 323,564.35

Schedule D (Not Awarded)

$ 115,092.44

$ -

$ -

City Streets Dept (BC/ACP)

$ 110,000.00

$ 9,350.00

CDA Paving (BC/ACP)

$ -

$ 121,617.25

Total Change Orders

$ -

$ 12,515.16

PROJECT TOTALS:

$ 433,564.35

$ 467,046.76

CALCULATED REPLACEMENT UNIT COSTS:

$200/LF (Typ.)

$187/LF