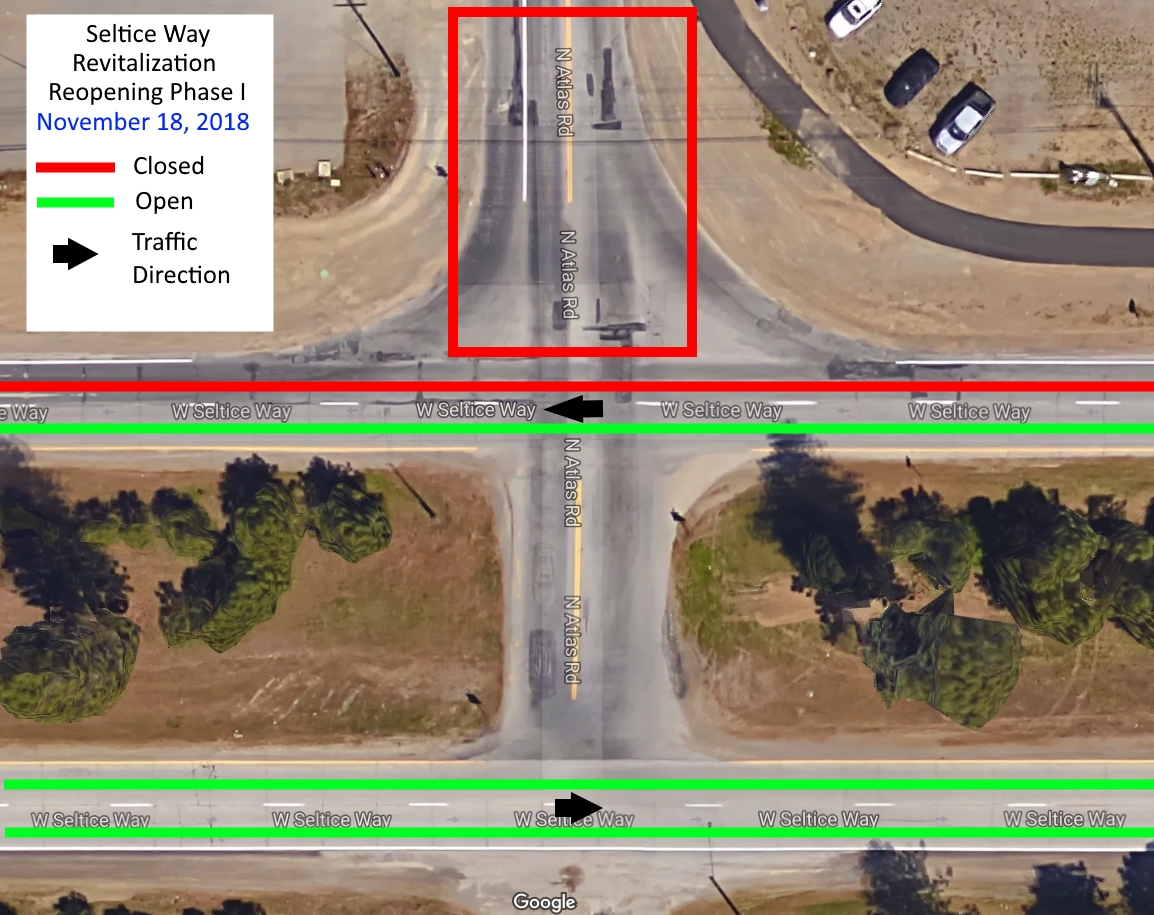 Seltice Way's north and south sides will be reopened back to one-way traffic in each direction in phases beginning Saturday, Nov. 18.

Work required to reopen Atlas Road must be completed prior to both lanes of westbound traffic being reopened. For that reason, the most northern travel lane of Seltice Way will remain closed until the work is completed. Atlas and all lanes of travel are estimated to be reopened December 8.
Phasing of traffic within this construction zone will be as follows (please see maps for visual detail):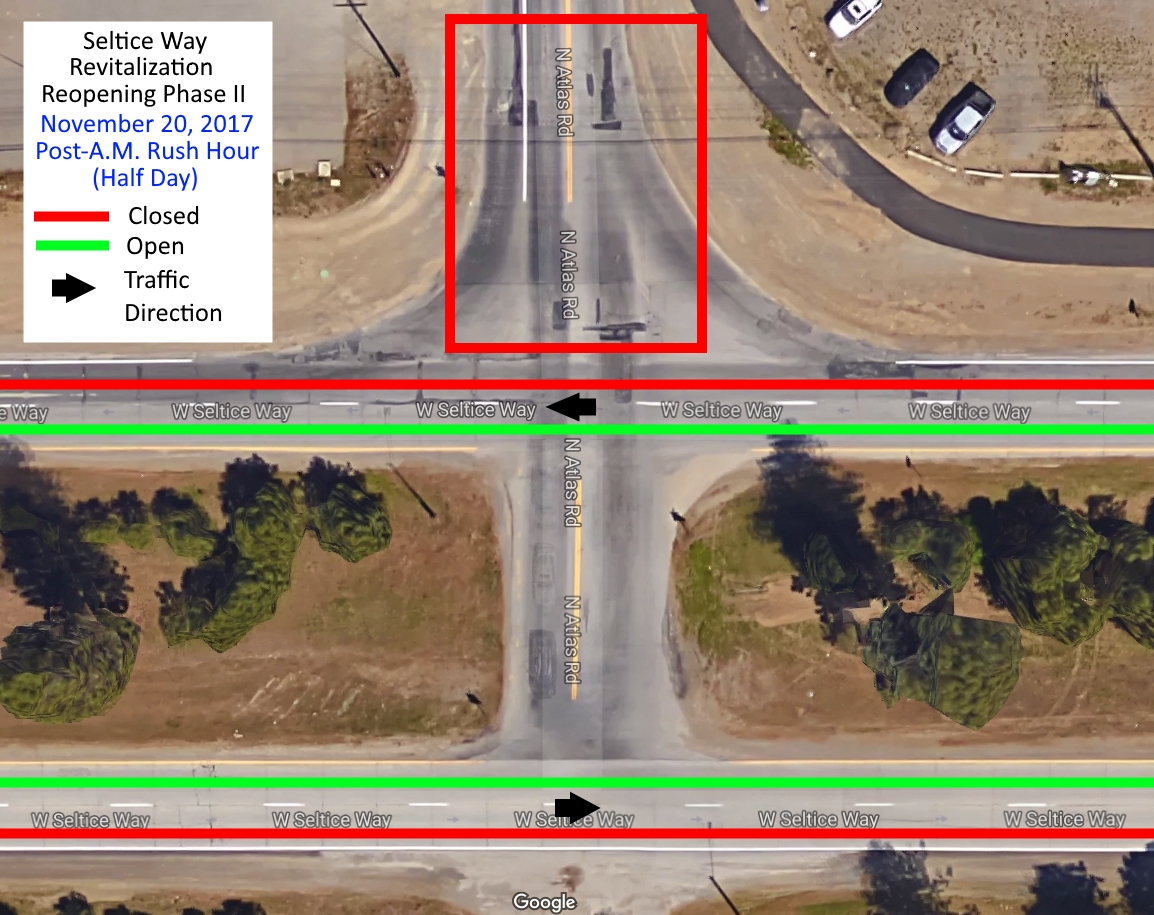 Phase I – November 18: Both lanes on the south side (eastbound traffic) will be opened. Westbound traffic will be a single lane.
Phase II – Monday, Nov. 20: Eastbound south lane will be closed after morning rush hour traffic so contractor can utilize the lane to grind out double yellow lines so it is clear traffic is again one-way heading east. This work is projected to last about half a day, and then both eastbound lanes will reopen. Westbound traffic remains a single lane.
Phase III – December 8: All lanes projected to be open as Atlas Road is reopened. Work to reopen Atlas includes finalizing a concrete splitter island, pedestrian crosswalk ramps, curb, and some electrical work.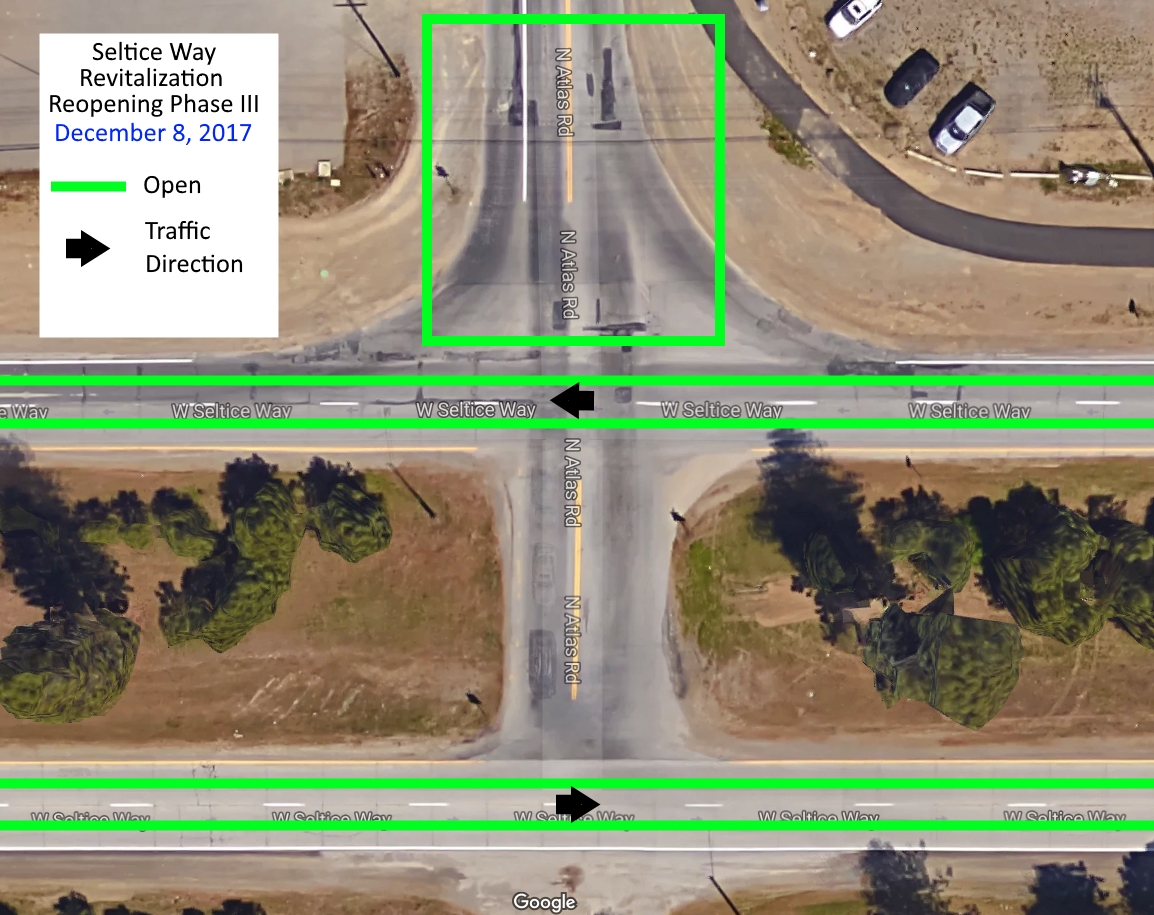 Seltice Way's revitalization will resume, and be finished, in spring 2018 once weather is appropriate to finish final items, including the final lift of asphalt, a north side shared-use path, and landscaping.
The $5.44 million project, funded in partnership with the City's urban renewal agency, ignite CDA, the Hayden Area Regional Sewer Board, and the Post Falls Highway District, will provide for a new streetscape, roundabouts at Grand Mill Lane/Idewild Loop and Atlas Road, bike lanes, shared-use paths as well as upgraded water and wastewater utilities between Huetter Road and Northwest Boulevard.