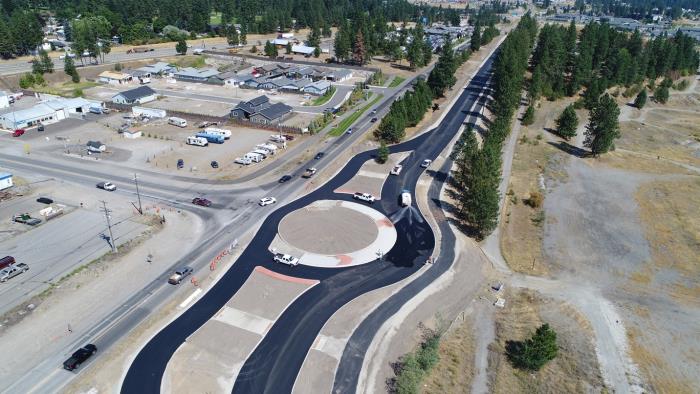 Paving of the north side of Seltice Way will begin during the weekend of Saturday, Nov. 11, as forecasts show appropriate weather for the work to be completed.
Access on to Seltice Way from Atlas Road will be closed during paving to ensure it is done efficiently and as safely as possible for motorists and construction crews. Signage noting the closure and detour routes is being placed to ensure early warning so that motorists can adjust their commutes. The Atlas closure is likely to begin a day or two prior to paving to make adjustments in the area necessary for this important work to begin.
With the hope of north side paving being completed within the week, the project will be winterized and begin again in spring 2018. Finishing work will include the final lift of asphalt on both sides of the roadway, a new, 12-foot-wide shared-used path on the north side of the road, bus shelters, and landscaping within and around the roundabout intersections at Atlas and Grand Mill Lane.
It is important to note that weather is a significant factor that the City's project team is reviewing daily. Air temperatures must be 35 degrees and rising and dry weather is required to ensure the work is done correctly and lasts for decades.
The City is appreciative of contractor T. LaRiviere for its diligent work in striving to have both sides of Seltice Way opened for the winter. This is a great community benefit that will enhance public safety during winter driving conditions.
The $5.44 million project, funded in partnership with the City's urban renewal agency, ignite CDA, the Hayden Area Regional Sewer Board, and the Post Falls Highway District, will provide for a new streetscape, roundabouts at Grand Mill Lane/Idewild Loop and Atlas Road, bike lanes, shared-use paths as well as upgraded water and wastewater utilities between Huetter Road and Northwest Boulevard.