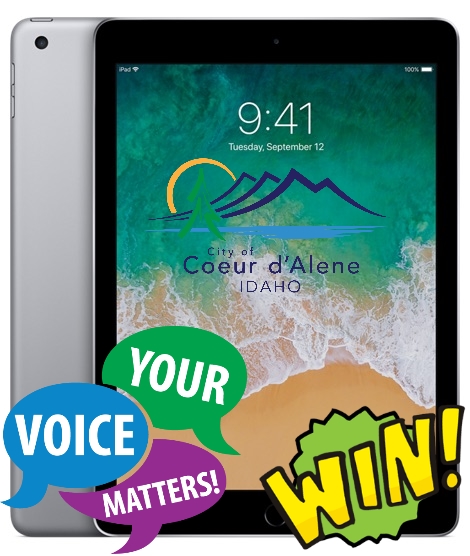 The City of Coeur d'Alene is asking the community for input on its local television station and new ways it is providing access to the public's business.
Coeur d'Alene residents who take the quick online survey about CDA TV by November 17 will be entered into a drawing for an iPad Mini donated by Bunkhouse Media. Access the survey by visiting cdaid.org/CDATVsurvey.
CDA TV Committee members created the survey to learn how community members stay informed about its local government and ways the City can enhance programming on the channel. CDA TV was created in 2004 based on a renegotiated franchise agreement with Adelphia (now Spectrum).
The channel allows citizens to watch the meetings of a variety of local governments and provides information on upcoming community events along with public education information. The first live broadcast of a City Council meeting occurred in 2005. Coeur d'Alene became the first Kootenai County community to begin livestreaming many of its public meetings to its Facebook page (facebook.com/cdagov) in August 2017.
CDA TV is accessible with a Spectrum conversion box on Channel 19.  Digital TV owners without the box can use Spectrum 97-104 for access. CDA TV is not accessible via broadcast, and the City's new livestreaming of many public meetings via Facebook has expanded the public's opportunity to stay informed and engaged in civic business.