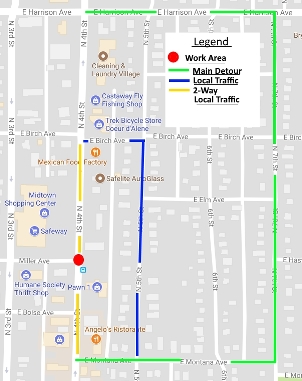 The City of Coeur d'Alene will detour traffic from 4
th
Street as it works to replace a brick-inlaid intersection with colored concrete.
The closure at 4th Street and Miller Avenue will occur from August 7 to August 18 and the City Streets & Engineering Department has informed area businesses and placed street signage to notify the public of the impending work.
The closure will last for the two weeks in order for the major work to be done and then to allow the entire intersection to harden properly. The intersection is a raised "table" that assists with traffic calming in Coeur d'Alene's Midtown.
All through traffic on the northbound one-way street will be detoured off of 4th Street east on Montana Avenue. Signage from there will redirect motorists north on 7th Street to Harrison Avenue where 4th Street can be reached and utilized again.
Local business traffic will be allowed in two-way direction just before and after the work zone. Pedestrian traffic and access in the area will not be impacted.
City Streets & Engineering Department crews have for several years been replacing Midtown intersections that had been improved with bricks. The bricks have shifted due to the high volume of traffic on 4th Street, which has created a rough ride for motorists. The new intersection table will be a colored concrete that matches the brick-red motif of other portions of the streetscape.