Mayor Jim Hammond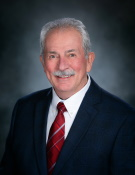 Mayor Jim Hammond was raised in Missoula, Montana. His work experience began early working for the Coca Cola bottling plant from 4th grade till out of high school. He attended Carroll College (Helena, Montana) where he obtained his Bachelor of Arts degree. He later earned a Master of Education Administration at Whitworth College (Spokane, Washington) and then furthered his public administration studies through the University of Idaho.
Jim worked in education administration as an elementary principal in Washington and Idaho. Since 1976, he has served the residents of Kootenai County as Idaho State Senator and Mayor of Post Falls, Idaho, President of City Council, and Commissioner for Planning and Zoning in Post Falls, Idaho. He is certified as an International City Manager Association Credentialed Manager and served as both the Post Falls City and Coeur d'Alene City Administrator.
Jim has dedicated his life to collaborative government, ensuring community safety, and building unified cities via his roles in government and his position on numerous state and local boards which have included the following:
Vice President of the Idaho State Board of Education
University of Idaho Board of Regents
Association of Idaho Cities
United Way of Kootenai County
Post Falls Education Foundation
Kootenai County Jobs Plus
Chairman of the Idaho Charter School Commission
Secretary of the Panhandle Area Council
Post Falls Chamber of Commerce
Coeur d'Alene Chamber of Commerce Government Affairs
Vice President of Idaho State Building Authority
President of the Post Falls Food Bank Board
President of the North Idaho Crisis Center Board
Jim and his wife Cyndie have three sons and six grandchildren. He has been a resident of Idaho and Kootenai County since 1973. Throughout his life, he has successfully brought people together to solve problems employing unique strengths of individuals and the collective wisdom of our community.