A Word From the Mayor
Vision. Teamwork. Leadership.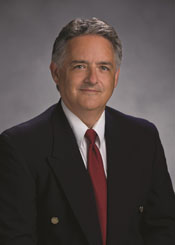 There are many reasons Coeur d'Alene is known as the "City of Excellence." Our thriving community continues to attract national attention, not only for its beautiful scenery and unparalleled hospitality, but for its progressive mindset that nurtures healthy growth.
Coeur d'Alene has grown over the years. And it continues to grow, thanks to strong city government and an active citizenry. In 1970, some 16,000 people called Coeur d'Alene home. Today, more than 47,000 people live, work and play in our community.
Why all the growth? Of course, it's the pristine environment, world-class amenities and some of the friendliest people you'll find anywhere. Coeur d'Alene continues to prosper because of dedicated leadership that ensures public safety, promotes economic development, and is committed to providing the best services for locals and visitors that you'll find anywhere.
I'm proud of this town that I've called home for more than 52 years. I've raised a family here, built successful businesses, and participated in community endeavors as a volunteer because I am passionate about continuing to reinforce our well-deserved reputation, not only as a City of Excellence, but also as the "City with a Heart."
Over the years, our fine city has prevailed against discrimination and gained national attention for our human rights efforts. Coeur d'Alene has been praised for the quality of life it provides to its citizens and for its commitment to equality.


In just the past decade, we've accomplished so much:
•A Higher Education Campus that benefits the entire community through educational and job opportunities.
•A community center - made possible by strong public support - that boasts 17,000 members and employs hundreds.
•A premier downtown lakeside park that is a huge draw to locals and visitors alike.
•A thriving downtown that continues to flourish and attract businesses.
•A breathtaking 90-mile trail system that continues to expand and attracts hundreds of walkers, bikers and runners each day.
•A beautiful 38,500-square-foot public library that is visited by up to 1,000 people every day.


I am truly honored to serve this great community and continue its journey into a prosperous future.
Steve Widmyer, Mayor
(208) 666-5754