Chief Gabriel's Bio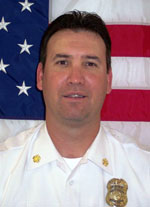 Kenny Gabriel
Fire Chief
Coeur d'Alene Fire Department
Chief Gabriel has been in the Fire Service for over 25 years, 24 of those with the
Coeur d'Alene Fire Department where he has served as a reserve firefighter, dispatcher,
firefighter, engineer then promoted to Chief of Department in April of 2000.
Chief Gabriel instructs Nationally and Internationally stressing firefighter safety and survival.
He has published articles in numerous fire service publications and is a two-time
State of Idaho firefighter of the year. Chief Gabriel is a member of the
North Idaho Type 2 Incident Management team where he serves as Information Officer.
He serves on numerous national, state and local boards and commissions.
Chief Gabriel is currently the President of the Idaho Fire Chiefs Association and
Immediate Past President of the North Idaho Fire Chiefs Association.