Welcome to the Coeur d'Alene Police Department website.
The City of Coeur d'Alene is located in beautiful northern Idaho and is home to over 45,000 residents. Our City serves as the cultural center for Kootenai County and boasts a fantastic downtown area, beautiful parks and public spaces, and proximity to numerous lakes, rivers, and outdoor recreation areas. The 103 members of our police department are committed to ensuring that this amazing area is a safe place to live, work, and visit.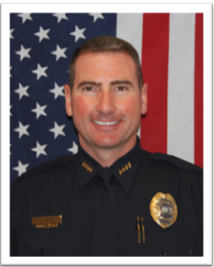 Policing in the United States is among the most noble of professions and one of the most challenging. The men and women dedicated to providing selfless service to our community must balance the absolute necessity to protect the constitutional rights of our citizens with the requirement to keep our community safe and crime free. The Coeur d'Alene Police Department continually strives to work in partnership with our community to accomplish these goals.
The dedicated professionals of the Coeur d'Alene Police Department are among the best in the United States. I am confident that if you have the opportunity to interact with one of our members you will find them to be as competent, outgoing, and trustworthy as I have. And please, if you see one of our members in uniform working on a holiday, on a weekend, in the snow or rain, please thank them for their outstanding service.
Finally, please take some time to browse our website and provide feedback on how we can improve both this site and our agency's interaction with the community.
I am truly honored to lead an extremely professional and competent group of dedicated public servants, committed to providing outstanding service to our community and our beautiful city.

Regards,

Lee White
Chief of Police