Turn in Prescription Medication Program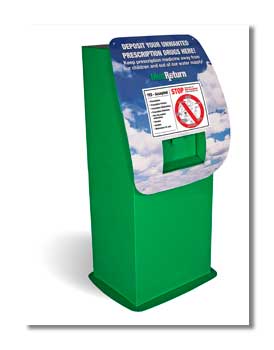 Turn In Prescription Medication Program
There are many risks associated with storing prescription drugs that are not part of a current drug therapy. The prescriptions maybe outdated and not effectively treating the symptoms they are intended for. If prescription drugs are being stored and the person they are for is not taking them according to the prescription, it is possible they could be taken by mistake or potentially stolen. If prescription drugs are disposed of in our water supply, a potential for contamination of the water occurs.


The Coeur d'Alene Police Department offers a drug disposal for outdated or no longer need prescription medications. Prescription tablets may be placed in a plastic bag and deposited in the green MedReturn box in the Coeur d'Alene Police Department Lobby.


Prescription containers may be recycled. Needles and syringes may be disposed of at the Kootenai County Solid Waste Facilities. We are unable to accept liquids or creams.
For Additional Information Please Contact Us At:
Coeur d'Alene Police Department
Property & Evidence Office
3818 Schreiber Way
Coeur d'Alene, ID 83815

Phone:(208) 769-2320 or (208) 769-2260