Explorer Program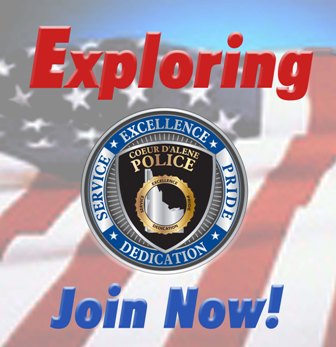 The Explorer Program is a division of the Boy Scouts of America and is sponsored by Coeur d'Alene Police Department. The program is designed for young people who may be interested in a career in law enforcement. Some of the services that Explorers provide are assisting at community functions and traffic direction.
During the year, Explorers will have the opportunity to work directly with the Coeur d'Alene Police Department and, in doing so, gain knowledge and insight regarding medical emergencies, domestic disturbances, directing traffic, firearms training, crime scene processing, traffic stops and others.


Explorer Program Goals
Gain practical experience in the law enforcement field.
Engage in a program of activities centered on the five emphasis areas (career opportunities, life skills, service learning character education and leadership experience) to encourage development of the whole person.
Experience positive leadership from adult and youth leaders and be given opportunities to take on leadership roles.
Have a chance to learn and grow in a supportive, caring and fun environment
All interested parties must:
Be between the ages of 15 and 21
Reside in Kootenai County.
Be registered as an Explorer with the Boy Scouts of America (BSA) and agree to sign the post code/laws.
If enrolled in school, maintain 2.0 GPA. If not attending school, must have high school graduation certificate or GED
Complete attached forms (Application, medical form, waiver and release) and turn into an Explorer Advisor at the Coeur d'Alene Police Department
Pass background check and Oral Board

Once accepted, an Explorer must be able to complete 20 hours per month which includes Officer Ride-Alongs and Explorer meetings / trainings to maintain membership.
Coeur d'Alene Police Department
Explorer Program
3818 Schreiber Way
Coeur d'Alene, ID 83815

Phone:(208) 769-2320
Fax:(208) 769-2307
Tips:(208) 769-2296
Explorer Application Packet

(Please note: We are only able to accept applications during the months of July and August)