Volunteer Opportunities
BECOME A STUDENT REPRESENTATIVE ON ONE OF THE CITY'S BOARDS, COMMISSIONS OR COMMITTEES!

CLICK HERE for an Application form.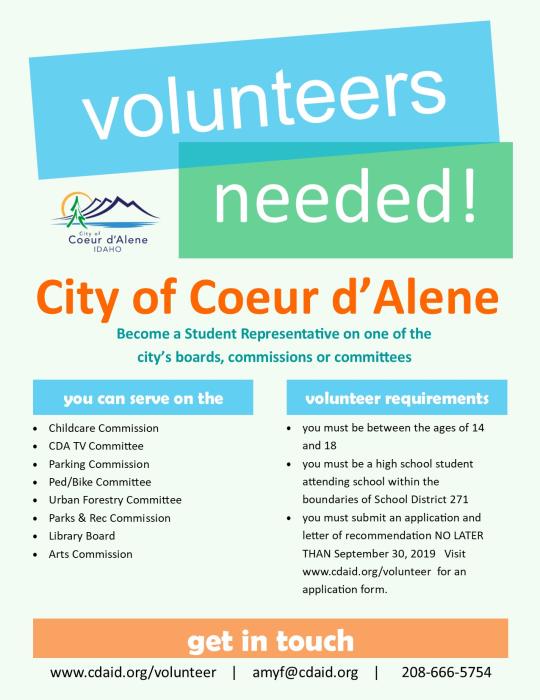 ADULT VOLUNTEER OPPORTUNITIES

You can make a difference in your community by getting involved in one of the city's boards, committees, or commissions. Your participation is valuable and important! Volunteer opportunities currently available are:

Arts Commission

Urban Forestry Committee


For more information regarding volunteer opportunities in the City of Coeur d'Alene, please contact Amy Ferguson, Executive Assistant, Municipal Services Department, (208) 666-5754, or amyf@cdaid.org.
---
---
Volunteer your group or organization for Storm Drain Stenciling. Click here for more information.
---
For community volunteer opportunities, please click on the following links:
United Way of North Idaho

Panhandle Parks Foundation Make a difference in your community! Contact Tracy Meyers at panhandleparks@gmail.com or call (208) 446-4813

Boys & Girls Club of Kootenai County