YOUTH WRESTLING
The Coeur d'Alene Recreation Department will co-sponsor with the North Idaho College Wrestling Team a wrestling clinic for K – 6th graders.
Registration is November 30 - December 28 or until the clinic is full at the Coeur d'Alene Recreation department, 710 Mullan Avenue.
This clinic offers five sessions of instruction with a tournament at the end. The clinic will take place Mondays and Wednesdays in January.
Cost is $35. Free wrestling t-shirt for all kids enrolled in program.

OPEN GYM BASKETBALL
SPONSORED BY THE COEUR D'ALENE RECREATION DEPARTMENT
PLACE:
WOODLAND MIDDLE SCHOOL
2101 St. Michelle Avenue
DATES:
DECEMBER 21,22,23
DECEMBER 27,28,29,30
TIMES:
6TH – 8TH GRADE - 10 AM – 12 PM
3RD- 5TH GRADE - 12 PM – 2 PM
INDOOR SWIM LESSON REGISTRATION
Registration will begin Tuesday, January 3, 8 AM, for the next six week session of indoor swim lessons sponsored by the Coeur d'Alene Recreation Department and held at the McGrane Center. Classes offered are Parent-Tot and 3 year olds and above with different levels. Classes are held on Monday or Wednesday evenings. Classes start Monday, January 9 or Wednesday, January 11. Classes are held in the evenings. Registration will take place at the Coeur d'Alene City Hall Recreation Department, 710 Mullan Avenue, starting at 8 AM. Cost is $37.00 and cash or check only accepted. There is limited registration. No pre-registration is allowed.
FUNKEYS - Piano/Keyboard for Beginner Kids Grades 1-3
WINTER SESSION
Instructor: Degreed instructor Allyson Gross has been teaching North Idaho kids & adults since 1988.
Location: Mountain Vista Music, 12955 N. Westwood Dr., Hayden, Idaho
A fabulous, FUN way for your child to learn piano! Kids play real songs using both hands from the first lesson, read and write musical notes and symbols, play rhythm instruments, and gain confidence through group singing and piano games. Fully orchestrated accompaniments in class inspire and encourage them; take-home books and CD's keep them playing all week! Classroom instruments provided; home practice instrument required. Classes continue weekly. Limit 4 students per class.
Class times:
Mondays 5:30 – 6:15 - January 16-February 6
Thursdays 4:45 – 5:30 - January 19-February 9
Fee: $48 *(First Semester Book & CD $9, paid to instructor)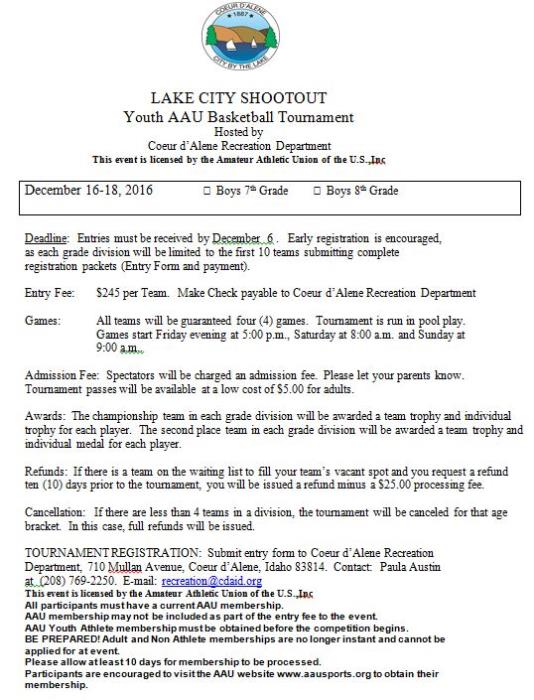 A partial waiver of fees may be available for seasonal sports league activities listed in our activities guide, if a request is made based on need and available funds. Funds are limited and come from public donations. To apply, or make a donation, please contact our office. A description of what is available can be found in our scholarship policy.