The Cd'A Recreation Department provides a comprehensive recreation program designed to fulfill the leisure time interests and recreational desires of our community. We strive to offer a wide variety of programs and activities in order to reach as many community recreational needs as possible.



ADULT OPEN GYM CANCELED FOR TONIGHT 2/8




INDOOR SWIM REGRISTRATION WILL BE HELD TUESDAY FEBRUARY 19TH. MUST REGISTER IN PERSON







YOUTH VOLLEYBALL CAMP
The Coeur d'Alene Recreation Department will co-sponsor with the North Idaho College Women's Volleyball Team a volleyball clinic for 1st– 4th and 5-8th graders. Registration is February 1 – February 28 or until the clinic is full. Registration will take place at the Coeur d'Alene Recreation department, 710 Mullan Avenue. This clinic offers 4 ninety minute sessions of instruction. The clinic will take place Mondays and Wednesdays in March beginning March 4. Cost is $35. Free volleyball t-shirt for all kids enrolled in program.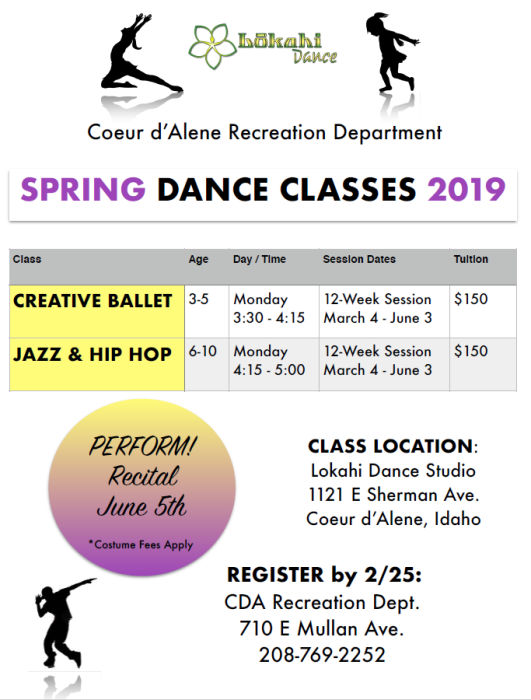 PRINTABLE REGISTRATION

YOUTH SCHOLARSHIPS
A partial waiver of fees may be available for seasonal sports league activities listed in our activities guide, if a request is made based on need and available funds. Funds are limited and come from public donations. To apply, or make a donation, please contact our office. A description of what is available can be found in our scholarship policy.