The Cd'A Recreation Department provides a comprehensive recreation program designed to fulfill the leisure time interests and recreational desires of our community. We strive to offer a wide variety of programs and activities in order to reach as many community recreational  needs as possible. 



~~~~~~~~~~~~~~~~~~~~~~~~~~~~~~~~~~~~~
YOUTH BOYS AND GIRLS REGISTRATION
K, 1st & 2nd Grades  
REGISTRATION:      JANUARY 5 – JANUARY 14
Registration Fee:    $26.00 – Residents                 $31.00 – Non-Residents
Season:                   Practice begins first of February and games run through March.
Games run weekdays and Saturdays.  8 foot baskets are used.
                                                          ~~~~~~~~~~~~~~~~~~~~~~~~~~~~~~~~~~~~~
YOUTH K – 6TH GRADE WRESTLING PROGRAM
Co-sponsored with North Idaho College Wrestling Team
REGISTRATION:    December 1 – 29 from 8 AM – 5 PM
Registration Fee:   $30 – Limited to first 50 kids
All participants receive a free t-shirt and 5 sessions of wrestling instruction
with a tournament at the end.  Sessions are Mon. and Wed. in January.                               
                                                             ~~~~~~~~~~~~~~~~~~~~~~~~~~~~~~~~~~~
COMPETITIVE LEAGUE BASKETBALL - 5TH – 7TH GRADE BOYS AND GIRLS
This league is designed for teams to come into the office already formed.  No individual registration at office.  A minimum of 4 teams is required per grade to offer the league.  Games are played twice a week, weeknights and Saturday.  The league will begin the second week in January for five weeks.   Team entry fee is $450 and deadline to enter is  Monday,  January 5.  Team rosters and waiver forms are available at the recreation office or can be emailed.
                                                             ~~~~~~~~~~~~~~~~~~~~~~~~~~~~~~~~~~~
LOKAHI DANCE REGISTRATION
Registration for youth dance classes begins Monday, December 22 until classes are full.  Classes offered are Creative Ballet for 3-5 year olds, Jazz & Hip Hop for 6 – 9 year olds, Lyrical for 6-9 year olds, Hula for Teen/Adult.   Classes are held on either Monday or Tuesday evenings.  For more information call the Coeur d'Alene Recreation Department at 769-2250.  Classes begin the week of February 2 and run through March 24.   Cost is $80 for 8 classes.
REGISTRATION LOCATION:
Coeur d'Alene City Hall – Recreation Department
710 Mullan
Hours:    8 AM – 5 PM – Mon. – Fri.
769-2250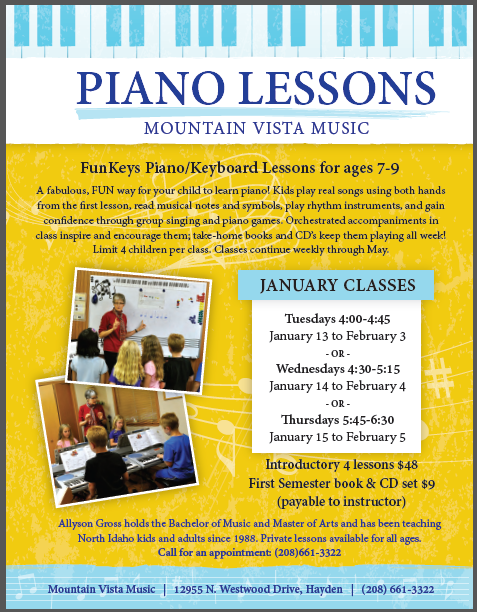 YOUTH SCHOLARSHIPS 
A partial waiver of fees may be available for seasonal sports league activities listed in our activities guide, if a request is made based on need and available funds. Funds are limited and come from public donations. To apply, or make a donation, please contact our office. A description of what is available can be found in our scholarship policy.