The Cd'A Recreation Department provides a comprehensive recreation program designed to fulfill the leisure time interests and recreational desires of our community. We strive to offer a wide variety of programs and activities in order to reach as many community recreational needs as possible.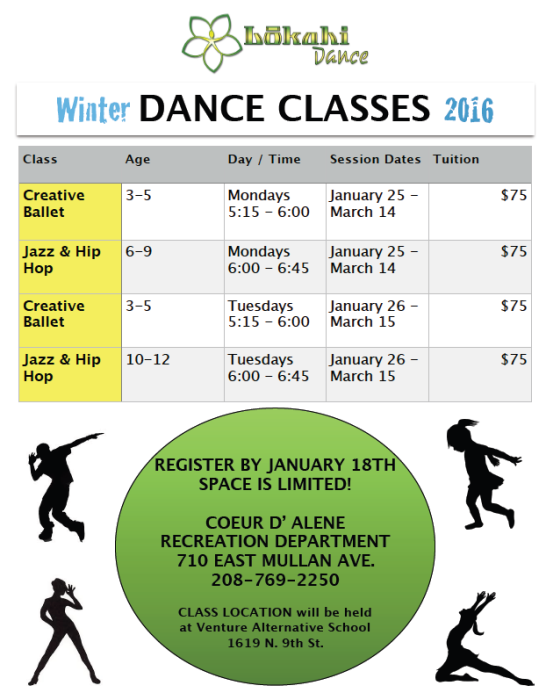 FUNKEYS –BEGINNING PIANO KEYBOARD 7-9 year olds
Instructor: Allyson Gross
Location: Mt. Vista Music, 12955 N. Westwood Drive, Hayden
Allyson Gross has been teaching North Idaho kid & adults since 1988. This is a fabulous, FUN way for your child to learn piano! Kids play real songs using both hands from the first lesson, read & write musical notes and symbols, play rhythm instruments, and gain confidence through group singing and piano games. Fully orchestrated accompaniments in class inspire and encourage them; take-home books and CD's keep them playing all week! Classroom instruments provided; home practice instrument required.
Max. 4 per class
Beginners 7-9 years old
M 5:30-6:15pm 1/11-2/1
TU 5:30-6:15pm 1/12-2/2
Fee: $48 (first semester book & CD $9, paid to the instructor)
~~~~~~~~~~~~~~~~~~~~~~~~~~~~~~~~~~~~~













YOUTH SCHOLARSHIPS
A partial waiver of fees may be available for seasonal sports league activities listed in our activities guide, if a request is made based on need and available funds. Funds are limited and come from public donations. To apply, or make a donation, please contact our office. A description of what is available can be found in our scholarship policy.