Tennis
YOUTH TENNIS
We offer two sessions of summer tennis lessons for ages 8-18.
Registration will be held June 1-9.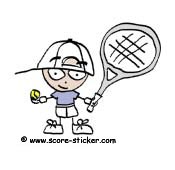 The first session will begin on June 12; the second session will
begin on July 17. Classes are held 2 times a week for 4 weeks.



Classes are held on weekday mornings with specific times
available at registration. Classes are divided into three age
groups: 8-10, 11-13, 14-18.
Each person must provide their own tennis racket and 3 tennis
balls.
Cost is $35 resident. $40 non resident


COEUR D'ALENE TENNIS ASSOCIATION
If you like to play tennis with people of similar ability on a
regular basis, we offer Adult and Junior USA Team tennis
leagues. This is a great way for individuals and families to
enjoy tennis once a week during the summer.
Players of all levels are welcome, but basic knowledge of the
game and rules is required. For more information check out
our website at www.cdatennis.org.